Ad blocker interference detected!
Wikia is a free-to-use site that makes money from advertising. We have a modified experience for viewers using ad blockers

Wikia is not accessible if you've made further modifications. Remove the custom ad blocker rule(s) and the page will load as expected.
Database Version
Hungry Hungry Hippo Update (v.1.7.40916.2)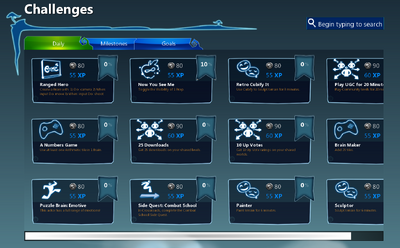 Challenges are specific tasks that can provide experience, and previously credits, to the creator/player. They are split into three categories:


These challenges change every day or week and require a specific individual task. A daily challenge gives 150 credits and 90 XP (300 credits and 180 XP with Spark Premium), while a weekly is 750 credits and 450 XP (1,500 credits and 900 XP with Spark Premium).
Daily: Halftime Show
Daily: Brain Puzzle (list of the puzzles with their solutions) among

Daily Brain Puzzle: Conversation
Daily Brain Puzzle: Character
Daily Brain Puzzle: Emotive
Daily Brain Puzzle: Backflip
Daily Brain Puzzle: Create A Combo
Daily: Depth of Field Brain
Daily Brain Puzzle: Earthquake
Daily Brain Puzzle: Dolly Camera
Daily: Super Hero Brain
Daily: Diplomat Hero Brain
Daily: Recruiting Enemy Brain
Daily: Flying Hero Brain
Daily: Flying Enemy Brain
Daily Brain Puzzle: Strafing Hero
Daily Brain Puzzle: Strafing Enemy
Daily: Medic Hero Brain
Daily: Enemy Medic Brain
Daily: Terrain Changing Hero Brain
Daily: Terrain Changing Enemy Brain
Daily: Melee Hero Brain
Daily Brain Puzzle: Melee Enemy
Daily: Ranged Hero Brain
Daily Brain Puzzle: Ranged Enemy

Daily: Creator Task among

Daily: Brain Surgeon
Daily: Painter
Daily: Sculptor
Daily: Decorator

Daily: 10 Minutes of Community Games
Daily: Add an Enemy Assembly among

Daily: Add Bandit Fighter
Daily: Add Bandit Rogue
Daily: Add Bandit Shooter
Daily: Add Bandit Scrapper
Daily: Add Goblin Boomers
Daily: Add Goblin Fighter
Daily: Add Goblin Scrapper
Daily: Add Goblin Tank
Daily: Add Zombie Bomber
Daily: Add Zombie Fighter
Daily: Add Zombie Sprayer

Daily: Login
Weekly: 150 Downloads
Weekly: 25 Up Votes
Daily: Crossroads Quest among

Daily: Defeat the Goblin King
Daily: Defeat Egg Guardian
Daily: Defeat the Fallen Ranger
Daily: Defeat the Flame Knight
Daily: Defeat the Squirrel Crate
Daily: Defeat Black Knight
Daily: Defeat the Haunted Scarecrow
Daily Side Quest: Squirrel Ranch
Daily Side Quest: Observatory
Daily Side Quest: Mystic Grove
Daily Side Quest: Puzzling Stones
Daily Side Quest: Lost Farmer
Daily Side Quest: Tournament
Daily Side Quest: Combat School
Daily Side Quest: Necromancer

Daily: Rampage among

Daily: 50 Coins
Daily: Bandit Rampage
Daily: Goblin Rampage
Daily: Zombie Rampage

Daily: Karlsnor Special Ability among

Daily: Karlsnor Perfect Rage
Daily: Karlsnor Rage Streak
Daily: Karlsnor Epic Rage Regen
Daily: Bowling with Karlsnor
Daily: Karlsnor Multi-Rage
Daily: Karlsnor Smash

Daily: Haakon Special Ability among

Daily: Haakon Shield Charge
Daily: Haakon Bladestorm Streak
Daily: Haakon Epic Mana
Daily: Haakon Smite Streak
Daily: Haakon's Guardian Angel
Daily: Haakon Block Streak

Daily: Avalon Special Ability among

Daily: Avalon Earth Shock Streak
Daily: Avalon Epic Wisp Regen
Daily: Avalon Mystic Blast Streak
Daily: Avalon Epic Garden
Daily: Avalon Wisp Horde
Daily: Avalon Renewable Resources

Daily: Scarlett Special Ability among

Daily: Scarlett Charged Arrow
Daily: Scarlett Present For You
Daily: Scarlett Caltrop Calamity
Daily: Scarlett Caltrop Collection
Daily: Scarlett Barrage Blitz
Daily: Scarlett Decoy Distraction

Weekly: 250 Champion Kills
Daily: Champion's Quest among

Weekly: Login
Weekly: Halftime Show
Daily: Seph Special Ability among

Daily:
Daily:
Daily:
Daily:
Daily:
Daily:

Milestones

Edit

These challenge are tier-based, meaning that they get updated to the next tier when the creator completes the task specified. For example download count tier 1 is 10 dowloads, but when reached it increases.

Biome Mastery
Sculpting Savant
Painting Pro
Prop Master
Altered Appearance
They Want FX
Character Creator
Combat Ready
Move It Like This
Kode Compiler
Fun With Physics
Properties Management
Make Some Noise
Sound Check
Total Downloads
Total Up Votes
Total Community Worlds Played
Get Remixed
Total Forum Thanks
Crossroads Bosses Defeated
Crossroads Coins Collected
Crossroads Choices Made
Lights Placed
Paths Arranged
Expansion
Erosion
Forestry
Add Terrain
Substract Terrain
Desert Locale
Smooth Operator
That's Rough
Such Great Heights
Tunnel
Retro Cubify It
Total Worlds Rated
Beta Participant

Goals work as achievements, performed only once. They are usually focused on creating specific things or accessing specific features of Project park.

Show and Tell
Powerful Connection
Make Something
Spin Me Around
Big or Small?
Keep it Together
Now You See Me
Activate Play
Activate Create
Activate Marketplace
Activate Community
Activate Play Crossroads
Activate Create Crossroads
Activate Tutorials
Activate Empty World
Activate Continue
Activate World Wizard
Spark Level Up
Tutorials: 3D Adventure Mission
(1 of 5) Village Defense: Add Scarlett
(2 of 5) Village Defense: Add 10 Houses (Rustic House C)
(3 of 5) Village Defense: Add 5 Male Peasants
(4 of 5) Village Defense: Add 5 Female Peasants
(5 of 5) Village Defense: Add 10 Goblins
(1 of 5) Platformer: Add 25 Wooden Platform C
(2 of 5) Platformer: Sculpt for 3 Minutes
(3 of 5) Platformer: Jump Height
(4 of 5) Platformer: Ground Speed
(5 of 5) Platformer: Add 50 Coins
Tile Experiment: Attack
Tile Experiment: Shoot
Tile Experiment: Throw
Tile Experiment: Dodge
Tile Experiment: Heal
Tile Experiment: Block
Tile Experiment: Revive
Tile Experiment: FPS Camera
Tile Experiment: Follow Camera
Tile Experiment: Fixed Camera
Tile Experiment: Boom Camera
Tile Experiment: Power On
Tile Experiment: Jump
Tile Experiment: Detect
Tile Experiment: See
Tile Experiment: Bump
Tile Experiment: Bump Terrain
Tile Experiment: In Trigger Zone
Tile Experiment: Equip
Tile Experiment: Attach
Tile Experiment: Countdown Timer
Tile Experiment: Duration Timer
Tile Experiment: Emote
Tile Experiment: Say
Tile Experiment: Hologram
Tile Experiment: Highlight
Tile Experiment: Grow
New Download Received!*
New Up Vote Received!*
Marketplace Hero
New Favorite Received!*
Avalon Level Up*
Haakon Level Up*
Scarlett Level Up*
Karlsnor Level Up*
Your First Download
Your First Up Vote
First Remix of Your Worlds
Your First Favorite
Your First Kodu Tile
Brains?
Braiiiiiiiiiiiiiiiiiins
Assemble!
Dark Room
It Starts Here
Registered Voter
Only the Beginning
First Crossroads Chapter
Need a Quarter?
First Encounter: Bandit Fighter
First Encounter: Bandit Rogue
First Encounter: Bandit Shooter
First Encounter: Bandit Scrapper
First Encounter: Bandit Fodder
First Encounter: Goblin Boomer
First Encounter: Goblin Fighter
First Encounter: Goblin Scrapper
First Encounter: Goblin Tank
First Encounter: Goblin Fodder
First Encounter: Zombie Bomber
First Encounter: Zombie Fighter
First Encounter: Zombie Sprayer
Karlsnor Cleaver Kill
Karlsnor Dodge Kill
Karlsnor Rage Kill
Karlsnor Whirlwind Kill
Karlsnor Seismic Strike Kill
Karlsnor Vigor
Karlsnor Ground Slam Kill
Karlsnor Furious Frenzy Kill
Karlsnor Shockwave Kill
Karlsnor Charged Ground Slam Kill
Scarlett Bow Kill
Scarlett Caltrops Kill
Scarlett Charge Shot Kill
Scarlett Kodite Barrage Kill
Scarlett Decoy Kill
Scarlett Charged Arrow Kill
Scarlett Decoy Trap Kill
Haakon Sword Kill
Haakon Sigurd Spear Kill
Haakon 10 Blocks
Haakon Sigurd Flurry Kill
Haakon Shield Charge Kill
Haakon Blade Storm Kill
Haakon 10 Courageous Blocks
Haakon Smite Kill
Haakon Sigurd Blade Storm Kill
Avalon Scepter Kill
Avalon Spirit Missile Kill
Avalon Wisp Healing
Avalon Mystic Blast Kill
Avalon Nature's Wrath Kill
Avalon Earth Shock Kill
Avalon Perfect Earth Shock Kill
Avalon Max Mystic Blast Kill

* These goals are repeatable