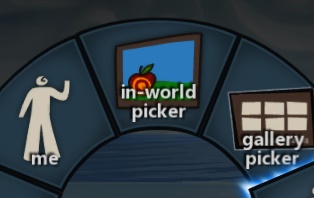 In-Game Description
Edit
Choose a specific object from the game world to use as a tile in the brain editor. 

Use
To use an object as a reference with the world picker, go to Objects>in-world picker, then select the object you want with the cursor. Using PC controls, press and drag the 

button to pan the camera. After you select and confirm a prop, it will appear in the brain editor as a tile. 
​Note: If you select a group of props or an assembly, you will see no icon in the brain editor.

Referencing
Edit
Useful when referencing "local" variables that work only inside a specific brain. For example, if you have a "coin counter" that is inside the player's brain and doesn't use [global] in front of its name, you can refer to that local variable using the in-world picker.
Below is an example of two brains that cannot communicate even if they have the same variable inside their brains. That is because [Global] tile is not used.

WRONG

CORRECT

CORRECT